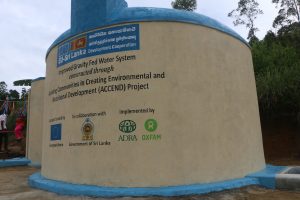 On March 25th, 2021, H.E. Denis Chaibi declared opened an Improved Gravity Fed Water System (IGFWS) at the Ladbrook Estate in Maskeliya. The system is one of the six schemes that were to be handed over this week to celebrate the World Water Day (March 22). By April-end 2021, a total of 10 water systems would have been handed over in the Upcot and Maskeliya regions in the Ambagamuwa Division, while a further 10 will be completed by April 2022. 
The Ladbrook system now provides purified pipe-borne water to 138 plantation worker-families with over 500 members, using gravitational force to capture, purify and distribute water. All households have been equipped with standard water meters and the Community Based Organization (CBO) formed will be in charge of its maintenance, assisted by the Estate Management. The scheme did cost LKR 10,775,620 million while setting a good example for tripartite collaboration among the community, Estate Management and the NGO.  To cover the system's total cost, the community has contributed 5% in cash and 10% in kind as planned.  The Estate Management also provided 10% in-kind, leaving only 75% to be borne by the European Union (EU).
As the world's largest provider of development assistance, the EU has long kept a watchful eye over the water, sanitation and hygiene (WaSH) sector, an essential asset in fighting poverty, inequality and climate change. Nonetheless, the experience has opened its eyes to the bigger picture. Being one of the largest humanitarian donors of WaSH assistance worldwide, EU  contributes around €200 million to WaSH sector each year.  For Sri Lanka, the EU has supported with €760 million (LKR 123 billion approx.) in development and humanitarian assistance over the past decade.  The two entities' diplomatic ties have grown up for over 40 years to date.
Furthermore, EU allocated up to €210 million for the single focal sector of "Integrated Rural Development" under the MIP 2014–2020 for Sri Lanka and extended its coverage by adding the Uva and Central Provinces to traditionally-supported Northern and Eastern Provinces. The programme was launched in 2016 with €30 million to support the most vulnerable and poor communities in the 4 districts: Monaragala and Badulla in Uva Province and Nuwara Eliya and Matale in the Central Province. The IGFWS handed over today was built by one such project funded by the EU – viz. "Assisting Communities in Creating Environmental and Nutritional Development (ACCEND)".  The ACCEND is being carried out jointly by ADRA UK, ADRA Sri Lanka and Oxfam Italia. The project has been strengthening the communities and public institutions for an integrated and mutually accountable service delivery system in WaSH and Nutrition .