32-year-old Uma Maheshwary is a successful and an award-winning entrepreneur from the Elutoor division of Mannar. Her life was not always easy. She had to face numerous hardships and challenges to get to where she is today.
She and her family fled to India in 1990 seeking refuge during the civil war. She lived in India until she returned to Sri Lanka in 2014 after marrying her spouse, Imran. They met each other while they lived in the Thoppukulai Welfare Camp. When they were in India Imran was a painter and a mechanic while Uma did various jobs to find a living. 
Upon returning they found it extremely difficult to find a place to live. They lived in several places before they eventually settled on a small plot of land her grandfather lent her in Eluthoor, a small remote village in Mannar. Imran does various odd jobs for a living. The meager income he earns is not sufficient to fulfill their family expenses, especially because they have two sons. ''My husband is a laborer. He does not work regularly. There have been days when he has not been able to find work,'' narrates Uma.
Uma received a valuable opportunity to take part in a training carried out by the Divisional Secretariat of Mannar for aspiring entrepreneurs, which inspired her to start the business. Driven and focused on succeeding, she started her business amidst the prevalence of the COVID-19 pandemic. '' I worked at a chemical factory while I was in India, and I knew how to manufacture soap, detergent powder, dishwasher, and sanitizer. I utilized that knowledge and experience to start my business,'' she says.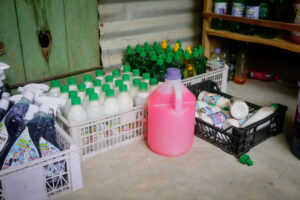 She began her business with limited support and resources. Her workshop used to be in a small wooden shed right in front of their house. "My previous workshop was not a very stable building. It would get flooded when there was heavy rain. Most of my expensive chemicals have even been destroyed,'' she stated. ADRA identified the dire need for a better workshop and provided her raw materials to build a better building. Additionally, ADRA provided empty bottles, chemicals, buckets, a table, and a wooden showcase which were identified as other needs of her business. Currently, she manufactures a variety of best-selling products such as sanitizer, dishwash, soap, shampoo, detergent and much more.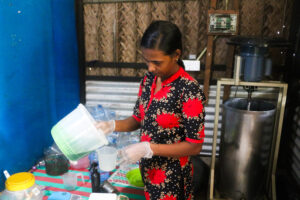 After ADRA's intervention her income has sky-rocketed. At begining, she was only earning 5000 Sri Lankan rupees a month and at present her monthly income has risen to approximately 60,000 Sri Lankan rupees a month. As a result, they have been able to settle their loans and fulfill all their household expenses. She has also started gaining recognition in her community and among the staff of the Divisional Secretariat. "Thanks to the business I've been able to purchase a phone. I want to purchase a bike and some jewelry next,'' said Uma with a slight giggle. With little goals in mind, she hopes to eventually expand her business furthermore. "I've laid the foundation to expand my business. I have registered with a digital platform that enables me to accept credit and debit cards. I'm also looking at the possibility of opening a shop in the Mannar town and distributing my products in Colombo as well,'' she added.
Amid the current economic crisis in Sri Lanka, Uma is working extremely hard to develop her business. Her perseverance and commitment are awe-inspiring and influencing many others in her community as well. 
ADRA's intervention to support Uma is part of its Local Economic and Social Strengthening project funded by the Australian Government's Department of Home Affairs. The project mainly works with refugee returnees and aims to strengthen the economic landscape of the Vavuniya, Mannar and Killinochchi districts while strengthening the public institutions which are involved in the repatriation process of refugee returnees.