'ADRA helped us start our own business and gave us a new lease of life. I'm so thankful to them,' were the words of gratitude expressed by 62-year-old Munusamy Subramaniam.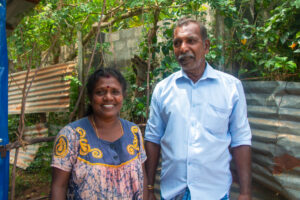 Munusamy and his family are refugee returnees who are now settled in Koomankulam, a small, remote village in the Vavuniya district. They were forced to flee Sri Lanka in 1990 due to the civil war. He now lives with his wife and his youngest son and daughter. His other two children are now married and settled in India.
Back in India, they lived in a small, confined housing facility offered by the Indian Government in the Themalipattu camp. Munusamy narrates his life as a refugee as one of the most difficult times of his life. He says that their lives are relatively better now. 
Munusamy sold fish for a living while he was in India. He had been a fishmonger for more than a decade. Ever since he came back to Sri Lanka, he always wanted to start selling fish again but didn't have the capital required to do so. His younger son and daughter are working. He and his wife, Thangaponne survived on their children's income even though they always wanted to earn a buck for themselves.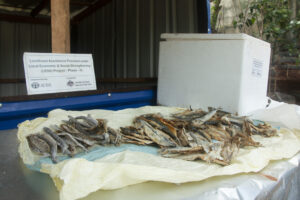 ADRA discovered them through the third phase of the Local Economic and Social Strengthening (LESS) project funded by the Australian Government's Department of Home Affairs. Through the project, ADRA helped them start their own fish selling business by providing them materials to build a shed to sell their fish and a freezer to preserve them. They successfully purchased fresh fish from wholesalers and sold it to more than 100 of their neighboring families. However, crisis struck when people stopped purchasing fresh fish due to the MV X-press Pearl oil spill. They have been selling dried fish ever since as an alternative and have been extremely successful. ''We now earn a reasonable income to fulfill our household expenditure, allowing our children to save some money for themselves,'' says Munusamy.
Over the years ADRA, through the LESS project, has supported voluntary repatriation and reintegration of more than 5000 Sri Lankan refugees in India. The project contributes towards strengthening Refugee Reintegration Networks (RRNs), local government institutions, and other key stakeholders involved in the repatriation and reintegration process. Furthermore, the project provides livelihood support to refugee returnees and creates awareness regarding regular and irregular migration among them.