Sathyaraj (31) is an ardent gardener. With just little knowledge he managed a home garden on a two (2) perch land. Upon taking part in the nutrition home gardening (NHG) trainings facilitated through the European Union funded ACCEND project, he gained valuable insight and knowledge required to expand and improve his garden.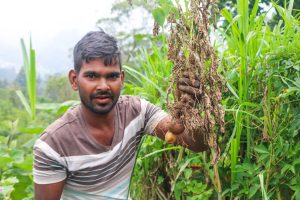 The ACCEND project aims to improve health and nutrition in the estate as well as rural communities of Sri Lanka. The project encourages families to engage in home gardening in order to boost the nutritional status of households and to increase access to food that are safe and nutritious. The project complements home gardening activities through provision of training, consultation, seeds for germination, and gardening tools and utensils.
Sathyaraj is a bachelor who hails from the Alton estate of Hatton. He works as a laborer for the estate and lives with his mother and his brother's family. ''My father is deceased, and my brother works at a hotel in Colombo. So, I take care of my mother and my brother's family,'' says Sathyaraj.
The NHG trainings promote organic home gardening and cover numerous important topics associated with NHG such as soil preparation and preservation, water management, seed preservation and germination, landscaping, organic pest control, and fertilizer preparation. ''The trainings broadened my knowledge regarding home gardening. I learnt things that I never knew before. I've incorporated what I have learnt from the trainings into my garden. I've learnt techniques to manage space and how to grow vegetables without using artificial fertilizers and chemicals. All the vegetables in my garden are organic. I use organic fertilizers that I prepare all by myself,'' says Sathyaraj with pride.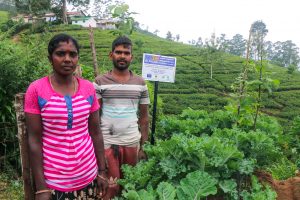 Sathyaraj's sister-in-law, Vigneshwary also supports him with the gardening activities. ''Gardening is something I do with enthusiasm. Whenever thambi (brother) is busy I take care of the garden. I'm a tea plucker and he is an estate worker, yet we manage our time, delegate each other tasks, and make sure that the garden is properly maintained,'' says Vigneshwary.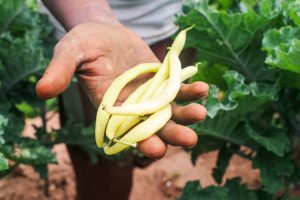 Their home garden boasts a variety of organic vegetables, greens and yams. According to Vigneshwary, they use the produce of the garden for home consumption. ''We used to purchase all our food. Now we solely depend on the produce of the garden to cook our meals, which has resulted in an abrupt decrease of household expenditure. We also have been able to sell the excess and utilize that money to buy other protein supplements such as meat, eggs, and fish,'' says Vigneshwary.
Through ADRA's intervention, Sathyaraj and his family have realized the importance of eating healthy and organic food. Additionally, the trainings have augmented Sathyaraj's passion towards gardening. ''Gardening brings me peace of mind and relieves me when I'm stressed. I want to thank the ADRA for conducting these trainings, they were instrumental in boosting my interest towards gardening and helped me improve my garden,'' says Sathyaraj expressing his gratitude towards the project.
The ACCEND project is funded by the European Union and is implemented jointly by ADRA and Oxfam. In collaboration with the Government of Sri Lanka, ACCEND works towards uplifting and improving water, sanitation, hygiene, health, and nutrition in the Nuwara Eliya, Matale, and Monaragala districts. In addition, gender justice and disaster risk reduction are woven across project activities as cross-cutting themes.