The gruesome civil war that prevailed in Sri Lanka for 3 consecutive decades took lives of countless people and forced many to leave the country and seek refuge elsewhere. During this time thousands of the families in the Northern, as well as Eastern provinces of Sri Lanka fled to South India. While most of the people who left between 2007 and 2008 have returned, many who left between the early 1990s and 2000s are still living in India.
Thirupugaselvam Sarasvathi (50) and her family were displaced due to the war and had to flee to South India back in 1990. They subsequently returned to Sri Lanka in 1993 intending to resettle. Sarasvathi is a mother of two, a daughter and a son. Her daughter is married and lives separately. Sarasvathi currently lives with her spouse, Velu, and her son in Asikulam, a remote village in the heart of the Vavuniya district. According to her, she had another son who disappeared during the war. To this day, they are unaware of his whereabouts.
Back in 1990, Sarasvathi, her mother, her father, her now missing son, and her then unmarried daughter had to flee to the Rameshwaram Mandapam Camp in Tamil Nadu, while her husband had to stay back in Sri Lanka due to several unavoidable circumstances. They fled to India in a boat which Sarasvathi narrates as one of the worst experiences of her life. For almost four years they lived in a small barrack type, temporary housing facility offered by the Indian Government. Even though she received a meager stipend from the Indian Government, she had to work her way through to make ends meet.
They returned to Sri Lanka in 1993 amidst the war with the assistance of UNHCR. Upon returning she reunited with her husband and lived in numerous places before they finally settled in Asipuram, where they built a small house for themselves. It was during this time that her son disappeared. To this day, she suffers from the persistent grief of losing her son.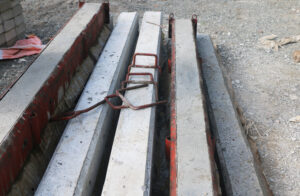 Velu is the breadwinner of the family. He used to work as a mason, but due to his poor health condition he was unable to continue work. Upon identifying their family through the Divisional Secretariat of Vavuniya, ADRA Sri Lanka lent them a helping hand to start their own business. ADRA provided them concrete moulds to start a concrete block-making enterprise through the third phase of the Local Economic and Social Strengthening (LESS) project.
Ever since they started the business their lives have become relatively better. According to Sarasvathi, they earn a reasonable income that helps them cover their household expenditure and their son's educational expenses. ''I am very thankful for ADRA's assistance. We faced numerous hardships before. ADRA intervened exactly when we needed help. Our lives have become so much better thanks to them,'' says Sarasvathi expressing her gratitude towards ADRA. She and Velu are determined and hopes to eventually expand the business. They have also been able to save some money to purchase more equipment needed for the business. ''We are progressing. We purchased a concrete block-making machine by utilizing some of the money we saved and by obtaining a loan from the Samurdhi (a local rural bank). We hope to expand our business even more and do better. My next goal is to renovate our house,'' says Sarasvathi.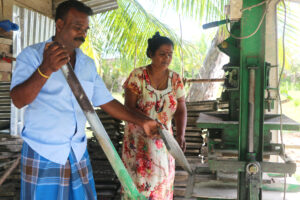 The LESS project is funded by the Australian Government's Department of Home Affairs and is implemented by ADRA Sri Lanka in Vavuniya, Killinochchi, and Mannar districts. Through the project, ADRA Sri Lanka has partnered with ADRA India on a cross-border effort to create durable social and economic solutions to communities that show an outmigration culture. The project contributes towards smooth reintegration and repatriation of refugee returnees whilst strengthening Refugee Reintegration Networks (RRNs), local government institutions, and other key stakeholders involved in the repatriation and reintegration process. Furthermore, the project provides livelihood support to refugee returnees and creates awareness regarding regular and irregular migration among them.