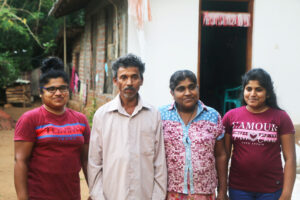 Seelavathi (48) lives with her husband and two daughters in Aharanda, a small village in the Wilagamuwa Divisional Secretariat where agriculture is a way of life. Seelavathi and her husband are farmers themselves, but since they do not have a land for agriculture, they cultivate in another person's land and pays him half of their profit.
Seelavathi's family and six other families in her village did not have convenient access to clean water for years. Even though each household in the village has a well, they dry up between August and October every year leaving the families with no water. They had to walk more than 5 kilometers every day to fetch water from the nearby river. ''For years we have been suffering without water, especially during the dry season. We had to walk kilometers and kilometers to fetch water. To get clean drinking water, we had to walk even further to the Bowser truck that has been assigned by the Government. It takes more than three hours for us to fetch the water and come back home, and it's extremely tiring," says Seelavathi describing the dreadful situation. In addition to these desperate circumstances, Seelavathi has been suffering from poor health and was recently diagnosed with Chronic Kidney Disease (CKD). CKD is highly prevalent in this area and is believed to be connected to the long-term consumption of unclean water.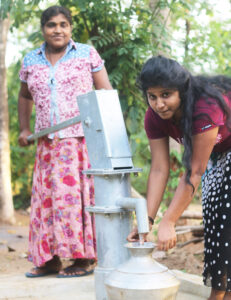 Through the Assisting Communities in Creating Environmental and Nutritional Development (ACCEND) project, ADRA established a brand-new hand pump in Aharanda earlier this year. This pump is one of 100 new hand pumps being established in the Monaragala and Matale districts of Sri Lanka through the project, of which 60 have already been completed. Furthermore, the project has also refurbished 262 existing non-functional hand pumps and will establish ten more water pumps that will be powered by renewable energy sources.
Since the establishment of the hand pump, Seelavathi and her community have been able to easily access water to fulfill their daily needs such as drinking, bathing, washing, and cooking. "The ACCEND project has done so much for our village. I cannot express how grateful I am. Thank you so much for taking the initiative to serve people like us. We do not have to walk far to obtain water anymore, which has saved so much of our time as well," says Seelavathi expressing her profound gratitude towards the project.
Funded by the European Union, ADRA UK, and Oxfam Italy, the ACCEND project is implemented jointly by ADRA Sri Lanka and Oxfam Sri Lanka. With the support of the Sri Lankan government, the project aims to improve and uplift water, sanitation, hygiene, health, and nutrition in the estate and rural communities of the Matale, Monaragala, and Nuwara Eliya districts. Additionally, gender and disaster risk reduction are woven across all project activities as cross-cutting themes.